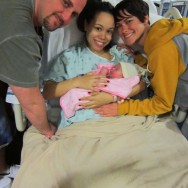 I recommend ANY expecting mama to have the assistance of a doula. We had no idea how important Alyssa was going to be during our birth experience. I met her through prenatal yoga class, as she was the instructor. I was intrigued by her expertise and gentleness. After researching her site, and shared who she was with my partner, Ryan. We agreed to do prenatal classes with her. She was wonderful, tailoring the syllabus to meet our needs. We had individualized classes for more attention, and she came to us so we could remain in the comfort of our own home. We learned valuable information that we used the very day of my labor.
On March 5, I had my first true contractions at 3:30 in the morning, and by 5:30am, the contractions were about 5-7 minutes apart. We called Alyssa, and she came to our home, helped me and my family into the car so we could depart for the hospital. Upon our arrival, she followed me into the examining room, where we found that I was 7 cm dilated, and 90% effaced. My water broke, and we knew the baby was coming! I was transferred to the labor & delivery room and for several hours, I worked.
With Alyssa's assistance, I got through each contraction one breath at a time. When the baby got lodged in my pelvis I wanted an epidural, Alyssa recentered me. She reminded me of our plan and told me to stick with it just one more hour. She recommended the pelvic lift which we learned about in our prenatal class, and we all agreed on to give it a try. My partner came behind me and lifting my stomach during contractions. This technique dislodged the baby and made me a full 10cm within minutes. I began pushing shortly after and within the hour, Mila Lynne was born!
If it were not for Alyssa we would not have had a sound, uncomplicated, healthy and natural birth. We owe so much to Alyssa for a beautiful birthday that we will never forget. I encourage you to make the same choice!
– Evelyn Medina